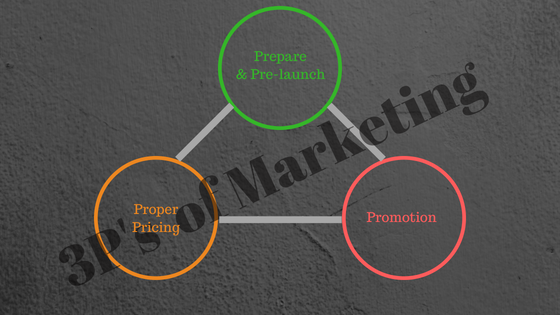 Remember a couple of decades ago when you (or maybe your parents) wanted to buy a home? What was the first thing you did? Jump in the car with your Real Estate Agent and drive around looking for Open House or For Sale signs.
Fast forward to today. What are buyers doing now to start their home search? They are going online. If the majority of buyers are looking online, what do you think you need to do to sell your home in today's market? You need to change up your marketing strategy to meet the demands of today's shoppers. So how exactly do you accomplish that? Well let's take a look at the 3 P's of marketing. There are subtle differences for this for varying industries, but I have molded it to our industry; getting your joint sold.
Old School 3 P's
The old 3 P's of marketing your home for sale were quite simple:
Put a sign in the yard – for sale sign and/or open house sign
Put the home in the MLS – list it for sale
Pray – just sit back and wait for a buyer to come to you and pray the home sells
I will be the first to admit that years ago, I did the same thing as a Real Estate Agent. That's how the industry worked. We all did it. But friends, times have changed. With nearly 90% of homebuyers using some form of an online search to find their new home, those old school 3 P's needed a revamp; enter 3 P's version 2.0.
3 P's Version 2.0
Let's take a look at the new 3 P's of marketing your home for sale:
Prepare & Pre-Launch

We have one shot at a first impression for your home. Get it picture perfect (clean it up, spruce it up, possibly use a staging company).
Use professional photography and videography to showcase your home. In a recent poll 84% of homebuyers stated the pictures and/or videos online is what drew them into seeing the home in person. The media used to market your home needs to be of top quality!
Create some hype for your "Coming Soon" property – let people know it's coming before it hits the market and create a buying frenzy. Remember the Apple Watch "leak" before it hit the shelves for sale? It likely wasn't a leak at all, just a way to draw attention to a new product creating enough hype to get people to wait in line for hours when it finally became available. We need to create a similar feeling toward the upcoming listing of your home.

Proper Pricing

Buyers are savvy, they have A LOT of information available to them these days. They know what the average home is going for in your area. Don't make the mistake of scaring a buyer away by overpricing your home.
The old school way of negotiating (starting high and drop drop drop til you can't drop anymore) doesn't apply to today's buyers. Price the home according to comparable home sales in your area. Your Real Estate Agent (me!) can help you do that by going over the recent sales and how they compare to your property.
The number one reason a home sits and sits on the market today: it's priced too high! If there are any homes remotely similar to yours for sale (and their almost always are) but those homes are priced at market value and yours is above market value, buyers may look at your home, but ultimately put an offer on the other home. It's just part of the homebuyer psyche.

Promotion

Remember where your buyers are looking for homes? Online, right. Get your joint visible online! Use that professional photography and videography to make the home draw in the potential buyers.
Don't just list it on the MLS – although that is crucial as well. Get it on its own website landing page, get the joint on social media, get the home out there for buyers to see!
Don't forget about some of those old school methods too. You still need a sign in the yard, flyers for neighbors/family, and even possibly holding an open house. Buyers still need to physically see the home, so the best marketing strategy combines both online and offline tactics.
Over the years, I have wrapped all these items into a property marketing plan that works beautifully. Get a FREE copy of my Valada Style Marketing Plan.